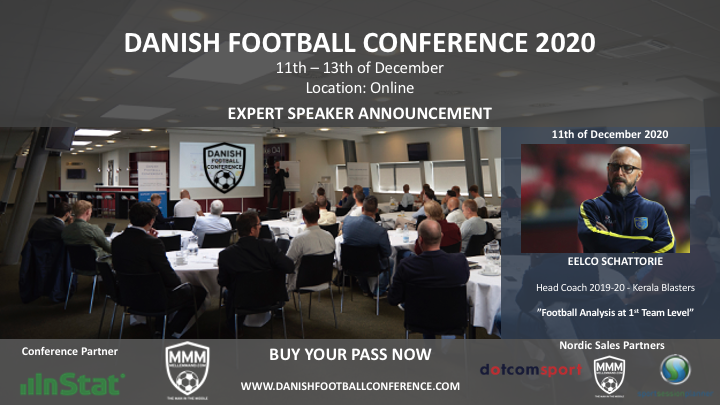 Eelco Schattorie – Head Coach at Kerala Blasters in the 2019-2020 Indian Super League, will speak on the "Online 2020 Danish Football Conference".
"Football Analysis at 1st Team Level" – will be the headline of the presentation.
Having Eelco presenting at this 2020 Online Danish Football Conference, is a 1st time we have a 1st Team Head Coach presenting at any of our conferences. Eelco will among several topics, share insights on how he prepares his teams on the upcoming opponents.
Eelco comes with 1st team coaching experience from around the world, latest as a head coach at Kerala Blasters and before that he have worked for clubs such as VVV-Venlo, Al Jazira, Red Bull Ghana and North East United.
Eelco will present on Friday the 11th of December, the headline of the day will be scouting, analysis and recruitment.
Do you want to know more about the conference or do you want to buy your access to our 2020 Online Conference?
– Go to the conference website: www.danishfootballconference.com
You can buy access to the full conference, but also for the individual presentations, go to the conference website to see what options you have.
Danish Football Conference is organised and hosted by MELLEMMAND
Kenneth Santa
Conference Director