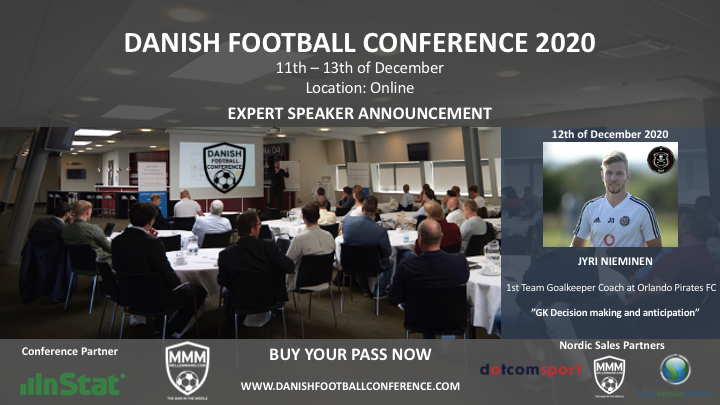 Jyri Nieminen – 1st Team GK Coach at Orlando Pirates Football Club, will speak on the "Online 2020 Danish Football Conference".

"GK Decision making and anticipation" – will be the headline of the presentation.
We are very happy and proud to announce that Jyri will present, Jyri will be our 1st GK Coach to present at any of our conferences.
Jyri comes with experience, working on 1st team level at Orlando Pirates FC as well as San Jose Earthquakes Soccer in the american MLS. Before this he worked as a GK Coach for the Aspire Academy and the Qatar Football Association.
Jyri will present on Saturday the 12th of December, on which the headline of the day will be coaching.
Do you want to know more about the conference or do you want to buy your access to our 2020 Online Conference?
– Go to our website: www.danishfootballconference.com
You can buy access to the full conference, but also for the individual presentations, go to the conference website to see what options you have.
Danish Football Conference is organised and hosted by MELLEMMAND
Kenneth Santa
Conference Director