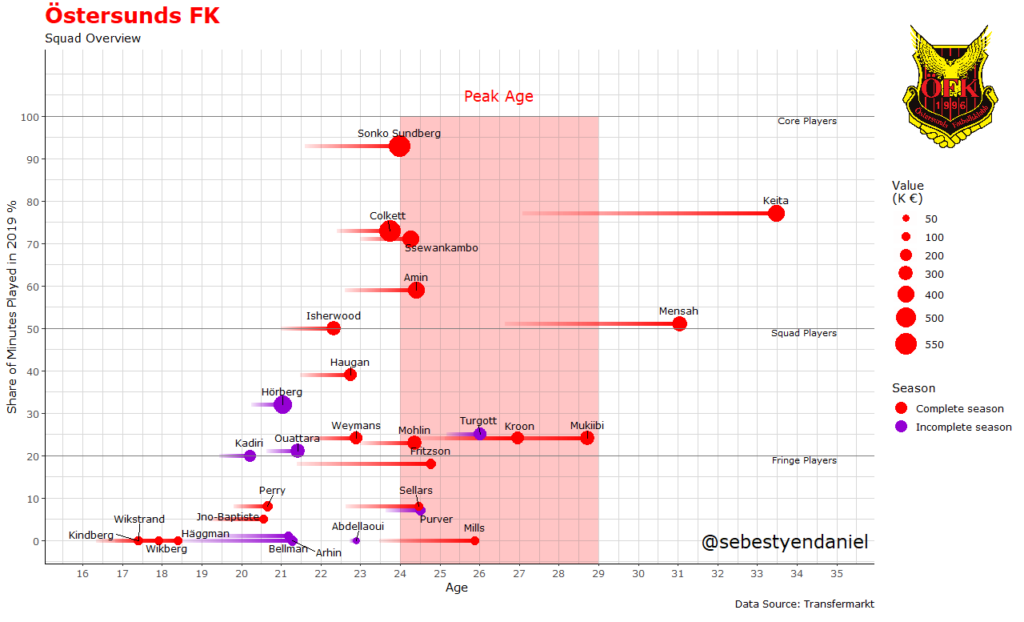 I'm gonna launch a new series, where I'll take a look at each of the Swedish Allsvenskan teams, starting with Östersunds FK.

Who are the core players, who are the best youngsters, who are the most valuable players, the best performers and who has worn the team's shirt the most?
Have a close look and I will give you answers to those questions, with the help of Transfermarkt, Sofascore and of course my own opinion, with focus on the most notable players.
Dániel Sebestyén

Scout Intern, Mellemmand
CORE PLAYERS (>50% of minutes played)
Sonko Soundberg (23, CB, Sweden)
Keita (33, GK, Guinea)
Colkett (23, CM, England)
Ssewankambo (24, DM, Sweden)
Amin (24, DM, Netherlands)
Mensah (31, CB, Ghana)
MOST VALUABLE PLAYERS
Colkett – 550 000€
Sonko Sundberg – 550 000€
Hörberg – 450 000€
Keita – 400 000€
Amin – 400 000€
Ssewankambo – 400 000€
BEST YOUNGSTERS (U23)
Kadiri (20, ST, Nigeria)
Isherwood (22, CB, Sweden)
Haugan (22, CB, Norway)
Hörberg (21, RM, Sweden)
Weymans (22, LB, Belgium)
MOST MATCHES IN THE TEAM
Mensah – 140
Keita – 139
Mukiibi – 121
Fritzson – 61
Sonko Sundberg – 53
BEST PERFORMERS (according to SofaScore, minimum of 900 minutes played)
Keita – 7.03
Sonko Sundberg – 6.98
Colkett – 6.96
Haugan – 6.93
Amin – 6.81
Here is the second part of the overview, with a few words about the notable players.
Aly KEITA (33, GK, Guinea)
He's been playing for the club for more than 6 years and played 139 matches for ÖFK. He's a stable member of the lineup if not injured, and it's likely that he'll be the captain for the season. He has 7 caps for Guinea.
Noah SONKO SUNDBERG (23, CB, Sweden)
Arrived from AIK two years ago and became a regular almost immediately. Has big experience in the league compared to his age and he's been performing constantly well. He is one of the biggest value of the team.
Thomas ISHERWOOD (22, CB, Sweden)
He was only a rotational player after his arrival in 2019, but it looks like he'll be a starter this season. He spent 3 years in the Bayern München academy-system between the age of 17 and 20.
Rewan AMIN (24, DM, Netherlands)
He was a Heerenveen youth player, but as he couldn't get himself into the first team, he moved to Dalkurd and put down a nice performance with them. This led to his acquisition 1,5 seasons ago, and he's a key player since then.
Charlie COLKETT (23, CM, England)
He walked through the levels in the Chelsea academy, but couldn't make it to the highest level. He also has plenty of youth-caps for England (his last match was in 2015). Here, he started to find back to himself and has an important role in the team.
Felix HÖRBERG (21, RM, Sweden)
He debuted in the Allsvenskan at the age of 18 and got signed by ÖFK last summer from the Superettan, after he got relegated with his old club. He was on the pitch almost every minute since his arrival and this isn't gonna change this year either.
Jordan Attah KADIRI (20, ST, Nigeria)
He came to the team at the 2nd half of the last season and showed his talent with 3 goals in just ~500 minutes. In this year's preseason he was insane, as he scored 8 goals in 9 matches. One of the most interesting player to watch for this year.