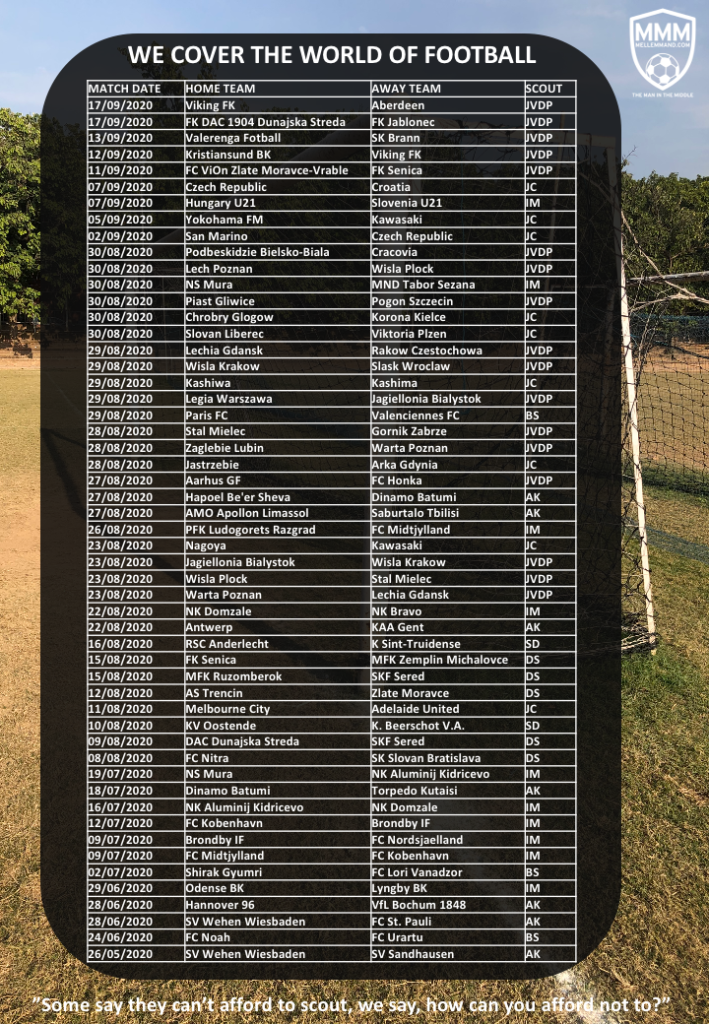 Who are the best upcoming talents and best performing players in the world?
The answer is quite simple:" Nobody knows and all knows".
We dont know, but we do have an opinion about players across the world, playing in USA, Qatar, India, Saudi Arabia, Denmark, Slovenia etc.
Our system, is set up to screen players, give them a grade for potential and for performance on a scale from 1-5, 5 being the best.

From there, the players given a grade 4 / 5, is put on the individual scouts shadow team, in a given league.
The scout screening a league, will always have an updated view on all the players, in that league. But to make sure, that the scout knows about the level in other leagues, the scout switches leagues on a monthly basic.
This way, the benchmark of knowledge develops and each scout are able to discuss the level of a player, benchmarked with other countries and leagues.
In the picture above, you are able to see an overview of the games, our scouts in ScoutLaB, have cross scouted in the month of September. Cross scouting is done every month and the games cross scouted is selected by the individual scouts, based on the shadow teams, of all our scouts. When a scout has flagged a player (given him 4-5), a different scout will follow up on that player and assess him. If the second scout also grades the player a 4-5, then the player will be added to the country overview, from where the players will be watched by our Head of Scouting and Director of Football, to assess a future potential level of the player. From the needs of players, different clubs have given us, then the next step is for us to present the player, with match reports, a player card, videos of pros and cons and our verdict.
For us, that is good and detailed scouting, now the decision is up to the club.!
We have as a company developed over the last period of time, trying to find our way in a world of football that have changed. What we did before the COVID-19, is quite different to what we do now, in ways of how we approach clubs and what their potential needs are. But what has not changed, is the game and its development.
If you want to know more about us, our ways of working and could be interested in having us as an external objective scouting partner, then feel free to reach out.
We do many things, but what makes us unique, is that we dont represent players, agents or clubs, we are scouts, that screen, scout and flag players, that we think could be interesting for clubs to follow or sign. The decision, is always theirs, but we are happy to discover potential targets, that haven't been identified earlier.
I look forward hearing from you.
MELLEMMAND
Kenneth Santa
Director of Football
For us, scouting is about creating a platform of knowledge, about a player, a league, a country, to be able to benchmark, so decisions can be made.
For us, scouting is about creating a platform of knowledge, about a player, a league, a country, to be able to benchmark, so decisions can be made.
That being able to say, "Sign", "Follow" and even more important, "Forget". 
Creating a platform of knowledge, is our main focus, our scouts and our scout interns, covers a minimum of around 60-80 games per week, through video scouting, with that one goal of being able to identify players, our clients, afterwards can scout in depth or request our company view on.
We educate our scouts and scout interns, in our way of screening countries, leagues and individual players. So they are able to take decisions, based on knowledge of our clients clubs/teams, what their needs are and if their request is to get a "plug and play player" or a potential development player, that they can develop and prepare over a longer period.
What we do, is not a secret, if you want to see our report template, please have a look above,  the report template used, is what we call a phase two template.
We work with three templates, a screening template, which is phase 1, a scouting template, which is phase 2, and a top 3 template, which is phase 3.
If you have questions, comments, or want to find out how we can assist your club or agency in your work, please contact us @ contactus@mellemmand.com
M E L L E M M A N D
– – – 
All basic information(full name, year of birth, position and preferred foot) about the players in this report as well as in other reports, is information we find on the clubs websites, federation websites or other football relevant sites, such as transfermarkt, InStat, Wyscout etc. 
All our reports in our football scouting database, is based 100% on our scouts individual reports, on a football match, watched either live or through video scouting.