Do you want to be a scout and learn from the best?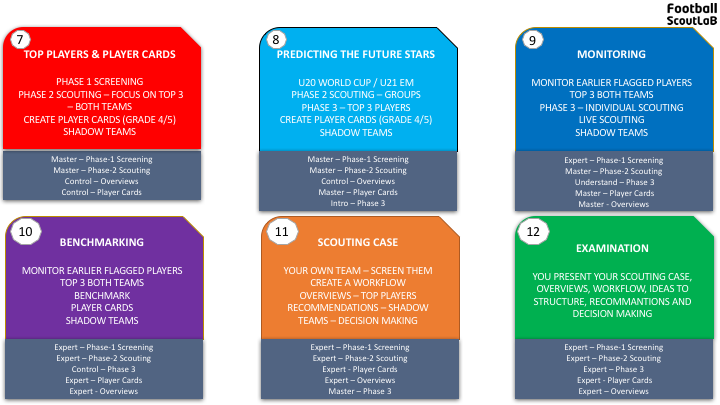 If you can say yes to above statement, are willing to learn, to contribute, to watch games on video, to watch games live, at both youth and senior level, now is your chance to join our Football ScoutLaB program, as a part time "Scout Intern".
As a scout intern, you can expect to be educated within every aspect of the football scouting industri, get knowledge about different systems, tools, report templates and ways to work. Our clients demands top quality, knowledge about the different markets, hard work and dedication. 
Demands that we every day do our very best to live up to and expect you to do as well.
Mellemmand.com – Football ScoutLaB:
Football ScoutLaB covers several european countries as well as countries in south and central america, through video scouting and live scouting. 
Football ScoutLaB services: team screenings, TOP 3 player scouting, individual player reports, opponent analysis, country shadow teams and individual player cards.
Expectations, Scout Interns:
Part time, scout intern (25 hours per week – Not paid)
Location: Work from home.
Salery: Not paid, internship.
Part time Scout Interns must be ready to watch 5-6 games a week on video,  as well as one to two live games a week, do the game reports and participate in our internal education program.
*Live scouting, will be done in local area, when it suits your individual weekly program(At your own expense).
All meetings, work, reports and communication will be done in English and we are looking for candidates, from all over the world.
Period and starting date: 1/12-2019 to 30/11-2020
Our end goal is to find 1-2 scouts per year, that can develop and become a part or full time scout, for our company. Scouts making it all the way through our program, will receive a certificate of their internship at Football ScoutLaB. 
In our experience, scouts coming through our program, are very attractive for clubs and football agencies.
Questions?
Should you have any questions, then feel free to send us a mail: contactus@mellemmand.com
Our 2015 Scout trainee, Alvaro Ladron, moved on to be Sports Director in an agency and is now working with the top Spanish Club, Real Betis as a first team scout.
Our 2018 scout intern, Andrii Fedchenkov, where a part of the program for a couple of months, before taking a position as a scout at Shakthar Donetsk. 
Our 2018 scout trainee, Andreas Wagner, landed a job at the danish top team, Brøndby IF, starting the 1st of January 2019, as a part time youth scout. After a succesfull scouting internship with Mellemmand.com 
Scout Intern
Instat Scout Platform - Free access

Scouting Education - For free

Scouting Templates - Free

Learn from people in the scouting world
If you want to become our new scout intern, then send us your motivation letter, your football cv and let us know, why you should be our next scout intern.
Closing date for applications: 1st of November 2019
Proces:
1 – Send your application, motivation letter and football cv, to contactus@mellemmand.com
2 – Succesfull candidates, will receive an invitation, to do a "scouting case", watching 8 games on video and doing 8 reports, from our templates and having previous reports as eksamples to follow. Candidates, will have 14 days, to complete the scouting case.
3 – Succesfull candidates, handing their scouting case in on time and with quality in their work, will be invited for a Skype interview.
4 – Succesfull candidates, will start their Scouting Internship at Football ScoutLaB, 1st of December 2019.
If you have any questions, don't hesitate to contact us, we look forward hearing from you.